Theresa May has divided her top team of ministers into two working groups to hammer out their differences on Brexit.
The cabinet is split over how to manage customs arrangements with the EU.
Brexiteers such as Boris Johnson are against Mrs May's preferred option of a "customs partnership", which is backed by Remain-voting ministers.
Mr Johnson's preferred model relies on technology to minimise customs checks. The EU has expressed doubts about whether either option would work.
The prime minister has said further work is needed to come up with a solution that will deliver on her promise of frictionless trade without the need for a hard border between Northern Ireland and the Republic.
She is under pressure to find a solution to present to the EU at the next round of Brexit talks, with just five months left to get an agreement on post-Brexit trade, so it can be ratified before Britain leaves in March next year.
Mr Johnson and Chancellor Philip Hammond - who are thought to have been at loggerheads over the customs issue - will not play a role in either of the two working groups.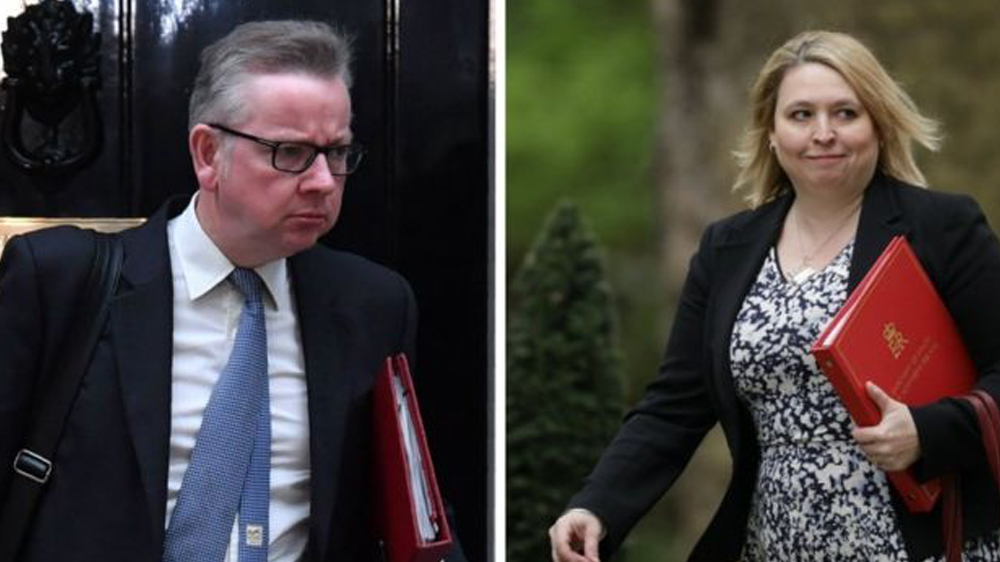 Brexiteer and Environment Secretary Michael Gove and Remainer and Northern Ireland Secretary Karen Bradley will sit in different groups
One group - Brexiteers Michael Gove and Liam Fox and Remain-backing Cabinet Office minister David Lidington - will consider a "customs partnership" whereby the UK would collect tariffs on behalf of the EU - but without the need for new border checks.
Downing Street said this group would be discussing how to make trade deals with non-EU countries - something Brexiteers say would be impossible under this option.
The other group - Remain-backing Business Secretary Greg Clark, Brexit Secretary David Davis and Remain-voting Northern Ireland Secretary Karen Bradley - will look at "maximum facilitation" - a solution based on using technology to minimise the need for customs checks after Brexit.
The members of this group will be looking at how to avoid the return of a hard Irish border.
The work was being carried out "as a priority," the prime minister's official spokesman said.
The next meeting of the cabinet's Brexit sub-committee is on Tuesday.
All EU members are part of the customs union which means there are no tariffs on goods transported between member states.
Labour is in favour of setting up a new customs union with the EU after Brexit, something it says is backed by the trade unions and industry body the CBI.
The customs partnership proposal
The UK would collect tariffs set by the EU customs union on goods coming into the UK on behalf of the EU.
If those goods didn't leave the UK and UK tariffs on them were lower, companies could then claim back the difference.
The customs partnership is thought to be the prime minister's preferred option but Foreign Secretary Boris Johnson has described it as "crazy"and said it would create "a whole new web of bureaucracy".
The 'max-fac' option
The maximum facilitation proposal - also known as "max-fac" - would employ new technologies and trusted trader schemes to remove the need for physical customs checks.
Trusted trader schemes would enable companies to pay duties every few months rather than every time they crossed the border.
Considering this option will be Remainers Business Secretary Greg Clark and Northern Ireland Secretary Karen Bradley and the pro-Leave Brexit Secretary David Davis.
The EU customs union explained
The customs union ensures EU member states all charge the same import duties to countries outside the EU.
It allows member states to trade freely with each other, without burdensome customs checks at borders, but it limits their freedom to strike their own trade deals.
The UK government has said it wants to leave the EU customs union in order to strike its own trade deals with other countries.
Ministers are under pressure to have made progress on the issue before next month's EU summit.